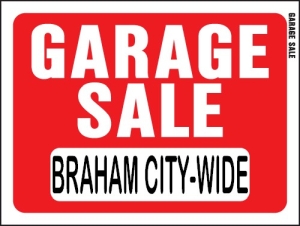 Thursday-Saturday, May 13-15, 2021
Signup Form
A printable copy of this form can be downloaded by clicking here.
The 20th Annual Braham City-Wide Garage Sales will take place May 13th, 14th, and 15th. The entry deadline is Monday, May 3rd.
The fee is $15.00 to cover maps and newspaper advertising. After submitting this form, you will be given the option to pay online using a credit or debit card. You can otherwise make a check payable to Braham Area Chamber. Checks can be mailed to Braham Area Chamber, PO Box 313, Braham, MN 55006 or dropped of at the walk-in or drive-thru at Frandsen Bank & Trust in Braham.
Any questions can be answered by emailing mail@brahamchamber.com, messaging our Facebook page, or leaving us a voicemail at 320-496-9345.
Rather than circling the location of your sale on a map (as done in past years), we will utilize your county's GIS website to ensure accuracy in map printouts.